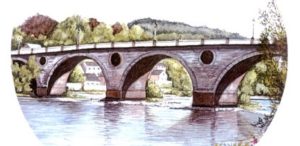 The Perth and Perthshire Branch of RSCDS runs a series of classes, dances and social events throughout the year.
Events are in Perth unless otherwise stated.
Classes 2018/19
Children's Class: Tuesdays from 4th September 2018 to 4th December with a break from 5 to 22 October. Classes commences again from 8th Jan to 26th March. 4pm to 6pm. Oakbank Community Centre. Teacher is Jane Rattray. £25 per term or £2.50 per night.
General Class: Tuesdays from 12th September 2017 to 28th November commencing again on 9th January until 27th March. 7:30pm to 9:30pm. Tryst Hall, Pitlochry. Teacher is Linda Gaul. £2 for members, £2.50 for non-members.
Beginners/Improvers: Wednesdays from 12th September 2018 to 12th December commencing again on 9th January to March 27th. 7pm to 9:30pm. St Leonards Church Hall. Teacher is Christian Catto. £4 for members, £5 for non-members.
General Class: Thursdays from 14th September 2017 to 14th December commencing again on 11th January to 29th March. 2pm to 3:30pm. St Matthews Church Hall, Tay St. Teacher is Rae Farrow. £3.
Experienced Class: Thursdays from 20th September 2018 to 13th December commencing again on 10th January to March 28th. 7:30pm to 9:30pm. Methodist Church, Scott St, Perth. Teacher is Rhoda Purcell. £4 for members, £5 for non-members.
2018 Spring and Summer Event
Summer Dances 2018: July and August Tuesdays 7:30pm. Robert Douglas Memorial Institute, Scone, PH2 6RU. £6.
Poster 1 describes the classes and the first 3 Summer Dances SS poster page 1 2018
Poster 2 describes the following 6 Summer Dances SS poster Page 2 2018
You can find the individual dance programmes, minicribs and diagrams for the dances below.
July 03: Christian Catto
JULY 03 CHRISTIAN CATTO   JULY 03 CHRISTIAN CATTO diag 2018   July 03 CHRISTIAN CATTO prog
July 10: Rhoda Purcell
JULY 10 RHODA PURCELL diag   JULY 10 RHODA PURCELL   July 10 RHODA PURCELL prog
July 17: Carol Bisset
JULY 17 CAROL BISSETdiag   JULY 17 CAROL BISSET   July 17 CAROL BISSET prog
July 24: Rae Farrow
JULY 24 RAE FARROW diag   JULY 24 RAE FARROW   July 24 RAE FARROW prog
July 31: June Templeman
JULY 31 JUNE TEMPLEMAN diag   JULY 31 JUNE TEMPLEMAN 2018   July 31 JUNE TEMPLEMAN prog
August 07: Margaret Breckenridge
AUG 07 MARGARET BRECKENRIDGE diag   AUG 07 MARGARET BRECKENRIDGE   Aug 07 MARGARET BRECKENRIDGE prog
August 14: Allana Creighton
AUG 14 ALLANA CREIGHTON diag   AUG 14 ALLANA CREIGHTON   Aug 14 ALLANA CREIGHTON pog
August 21: Linda Gaul
AUG 21 LINDA GAUL diag   AUG 21 LINDA GAUL   Aug 21 LINDA GAUL prog
August 28: Jane Rattray
AUG 28 JANE RATTRAY diag   AUG 28 JANE RATTRAY   Aug 28 JANE RATTRAY prog
For more information on any of our classes or events please phone Christopher on 01738 443568
2019 Events
RSCDS Perth Ball. Friday 12th April 2019. 7pm. Station Hotel, Perth. Music by Jim Lindsay. Details to follow