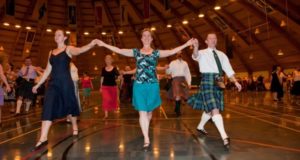 Perth and Perthshire Branch of the RSCDS was established in 1925 and is one of 44 Scottish branches and one of 170 branches world-wide. We run dance classes to suit everyone – from children through beginners to the most advanced dancers. Every other year we get dressed up in all our finery for the Perth Ball – held in May in a local hotel. You can find our programme on the "RCSCD Events" page.  And, if that's not enough to satisfy your dance cravings, Perthshire has an abundance of dance clubs meeting in town halls, schools, church halls and community centres almost every night of the week.  You can find out more here "Perthshire SCD events".
Perth and Perthshire RSCDS is a Registered Scottish Charity SCO2446.
Perth and Perthshire RSCDS Committee 2019/20
Chairman: Allana Creighton
Vice Chairman:
Secretary: Sue James
Treasurer: Judith Borup
Members:   Susan Black, Linda Carswell, Wanda Roger, Janice Macdonald, Janet Macdonald
Youth Coordinator: Jane Rattary
Membership Secretary: Rhoda Purcell
Web Master: Susan Black
Highland Gateway Editor: Rod Purcell
Perth and Perthshire RSCDS Branch Documents
Branch AGM, 1 September 2020, 7:30pm Kinnoull Church
Please see letter below as changes may be made to the AGM details nearer the time depending on the Covid-19 situation.
Book of Perth Dances
Our branch has published a book of dances which have connections with Perth and Perthshire, either relating to the area or written for or by dancers within this area. Members were asked to submit dances for consideration and the working group selected the dances for publication. From 42 dances submitted, 12 were selected and Margaret Breckenridge won the competition to design the front cover of the book which is on sale for £2. The CD with James Coutts Scottish Country Dance Band to accompany the book, is available for £8.  The book and CD can be bought together for £8. If you would like a copy – please contact us via the website.